Cylinder Installation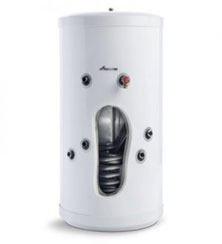 Cylinder installation is another service that Stewart & Stewart offer to our customers. There are two types of cylinders that can be installed into our homes, these are vented and unvented cylinders.
Difference between vented and unvented cylinders
The difference between the two is that an unvented cylinder only has one tank (cylinder). Instead of having an additional cold water tank, the sealed hot water cylinder is fed directly by the cold water mains. The pressure and flow of the water on this system can be of higher performance as the water comes from the mains.
Providing the property pressure is good, most property's are removing gravity fed cylinder in preference for the silent more efficient mains fed unvented type, meaning constant good pressure and no loft tanks or pumps needing maintaining.